The team in 2023
Team Leader
Permanent researchers
Laetitia Chapel (Full Professor, Institut Agro Rennes-Angers)
Luc Courtrai (Ass. Professor, UBS / UFR SSI)
Chloé Friguet (Ass. Professor, UBS / IUT Vannes)
Sébastien Lefèvre (Full Professor, UBS / IUT Vannes
François Merciol (Ass. Professor, UBS / IUT Vannes)
Charlotte Pelletier (Ass. Professor, UBS / UFR SSI)
Minh-Tan Pham (Ass. Professor, UBS / IUT Vannes)
Frederic Raimbault (Ass. professor, UBS / UFR SSI)
Associate / external collaborators
Postdocs
ATER
PhD students
Corentin Dufourg (2022-)
Bjoern Michele (with Valeo, 2022- )
Paul Berg (2021- )
Huy Tran (with Polytechnique) (2021- )
Guillaume Mahey (2021- )
Clément Bonnet (2020- )
Jean-Christophe Burnel (2020- )
Visiting researchers
Anne Osio, PhD student, TU Kenya ( )
Joachim Nybord, Aargus University ( )
Gatechew Workineh, University of Salzburg ( )
Interns and apprenticeship students
Past members
Abdelbadie Belmouhcine (Postdoc 2020 – 2023), then ATER at IUT Vannes
Hugo Gangloff (Postdoc 2021 – 2022), then Research Engineer at INRAE, MIA Paris-Saclay
Deise Santana Maia (Postdoc 2019-2021), then Ass. Prof at Université de Lille
Behzad Mirmahboub (Post doc 2018-2020), then Postdoc at Université Clermont Auvergne
Pierre Gloaguen (Post-doc 2017-2018), then Ass. Prof at AgroParisTech
Bharath Bhushan Damodaram (Postdoc 2015-2020), then Researcher at Interdigital
Antoine Lefebvre (Postdoc 2016, CNES), then Founder of Kermap
Pierre Allain (Postdoc, 2013-2014), then R&D Engineer at WIPSEA
Romain Dambreville (Ass. researcher, WIPSEA, 2015-2020)
Jerôme Moré (Engineer)
Karel Janik (Engineer)
Manal Hamzaoui (PhD 2023)
Iris de Gelis (PhD 2023)
Renan Bernard (PhD student, 2021-2022)
François Painblanc (PhD student, 2020-2022)
Javiera Castillo Navarro (PhD 2022, with ONERA)
Kilian Fatras (PhD 2021), thenPostdoc at McGill University
Çaglayan Tuna (PhD 2021), then Engineer at INRIA
Heng Zhang (PhD 2021), then R&D Engineer at ATERMES
Titouan Vayer (PhD 2020), then Permanent Researcher at CNRS
Florent Guiotte (PhD 2020), then R&D Engineer at Avion Jaune
Ahmed Samy Nassar (PhD 2020, Nile University, Egypt), then Researcher at IBM
Nicolas Audebert (PhD 2019, with ONERA), then Ass. Prof at CNAM Paris
Jamila Mifdal (PhD 2019), then Research Fellow at Phi-lab/ESA
Adeline Bailly (PhD 2018), then Engineer at DGA
Yanwei Cui (PhD 2017), then Data Scientist at Amazon
Sina Nakhostin (PhD 2017), then Postdoc at Strasbourg University/CNES
Romain Huet (PhD 2017)
Petra Bosilj (PhD 2016), then Lecturer at University of Lincoln
Gong Xing (PhD 2015)
Pascal Zille (PhD 2014)
Pauline Dusseux (PhD 2014)
Claire Voreiter (PhD student 2019-2020)
Mathieu Laroze (PhD student 2016-2020)
Arthur Le Guennec (PhD student)
Roberto Giudici (PhD student)
Marion Jeamart (MSc Intern Univ. Rouen 2021, then Engineer OTTOPIA,  2021-2022)
Marc Rußwurm, Visiting PhD student, Technical University Munich (2018-2019)
Anthony Frion (MSc 2021, IMTA), then PhD Student at IMT Atlantique
Maël Le Gal (MSc 2021, UBS)
Alexandre Chojnacki (MSc 2018, ENSTA), then Engineer at DGA
Koustav Ghosal (MSc Intern, IIIT Hyderabad, India)
Abdullah Al-Dujaili (MSc intern), then Post-doc at MIT
Joseph Guillerey (MSc intern, Insa Rennes)
Anh Quang Nguyen (MSc intern)
Onur Tasar (MSc intern, Bilkent University, Turkey)
Gwendal Cachin-Bernard (DUT in Apprenticeship)
list to be completed….
Team photos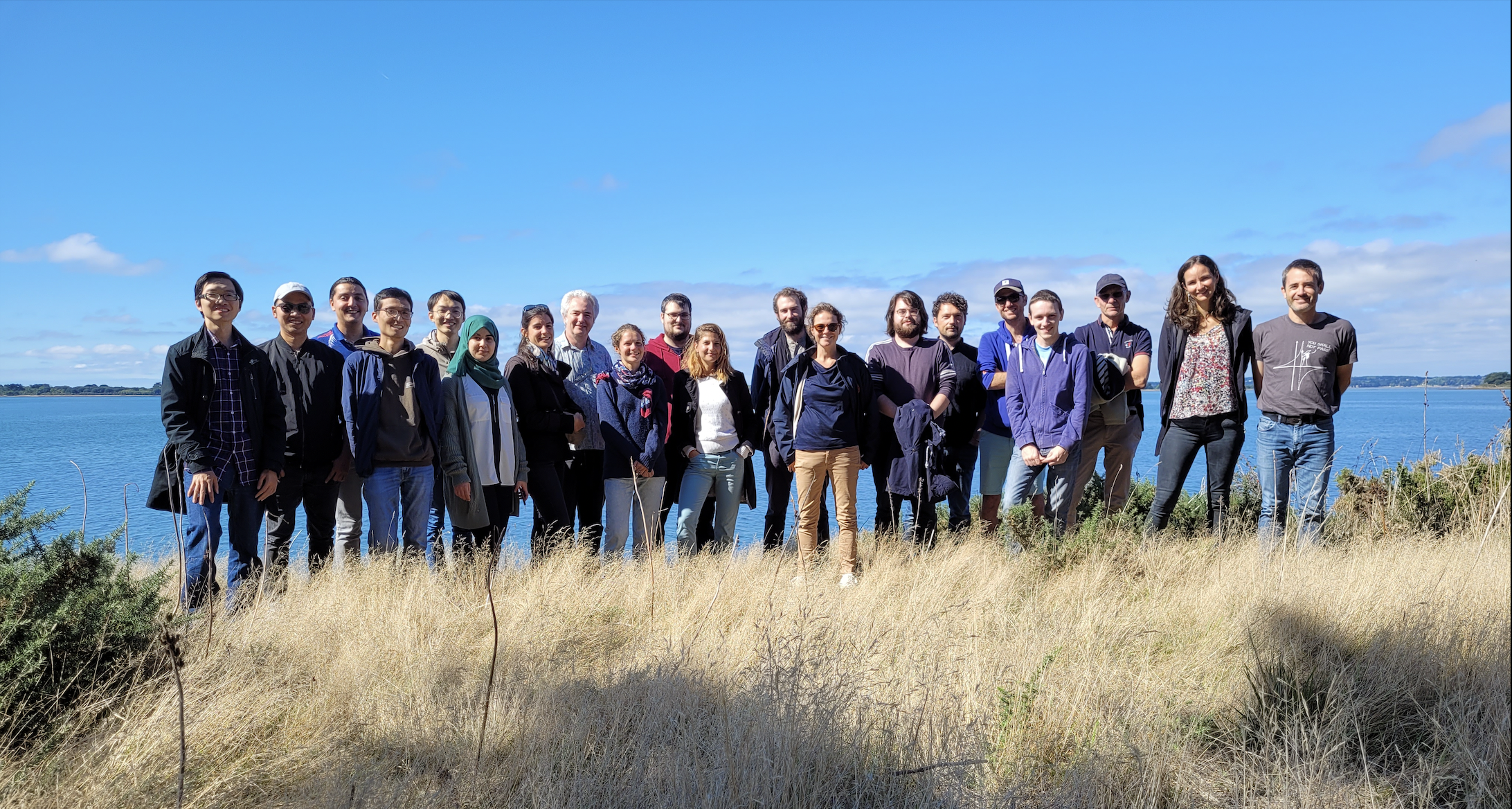 The team in 2021